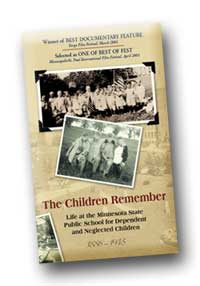 Winner of BEST DOCUMENTARY FEATURE


Fargo Film Festival, March 2003



Selected as ONE OF BEST OF FEST


Minneapolis/St. Paul International Film Festival, April 2003



The Children Remember —




Life at the Minnesota State Public School for Dependent and Neglected Children



Kathleen Laughlin/producer, director, editor;
Maxine Ronglien/executive producer;
Michael Maas/project director; Harvey Ronglien/historian; Kevin Kling/narrator; Mike Hazard/writer; Ed Matney/camera; Ted Golbuff/sound; Robert Hughes/composer.



Documentary Video


In 2002, a project that spanned over two years, "The Children Remember" documentary video, was complete. The Minnesota State Public School Orphanage Museum Board of Directors, lead by Maxine Ronglien, Michael Maas, and Harvey Ronglien worked diligently with the talented Kathleen Laughlin on this stunning documentary video which captures the personal stories of past State School wards, family members, and staff.



Learn firsthand from the children who lived this history.


If you would like to order a copy of this 87-minute documentary and hear these candid and sometimes tragic stories told directly from those who lived it, there are four ordering options: Online, USMail, Phone or at the museum. All orders will be sent Priority Mail.

ORDER ONLINE: The VHS tape price is $15.00 - shipping and handling included.
Click the BUY Now button directly below to order one or more VHS tapes.

The DVD price is $30.00 - shipping and handling included.
Click the BUY Now button below to order one or more DVDs.


ORDER by USMAIL: Please send your name and mailing address, along with a check or money order for $15.00(VHS) or $30.00(DVD) per video to: State School Orphanage Museum.

Mail all to State School Orphanage Museum, 540 West Hills Circle, Owatonna, MN 55060.

ORDER BY PHONE: You may order with a Visa® or MasterCard® by calling 507-444-4321.

"The Children Remember" is also for sale at the Museum at $5 less per video (since there is no shipping).

The documentary was funded in part by the Minnesota Historical Society's Grants-in-Aid Program, and by corporate and individual donations.