Books for purchase
The following books have been written by or about former State School kids and are available for purchase in our Gift Shop: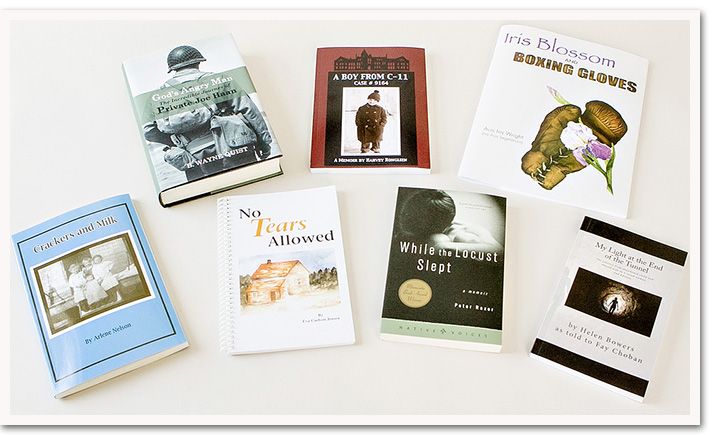 *Books are available at the Cottage 11 Gift Shop.

God's Angry Man: The Incredible Journey of Private Joe Haan
by B. Wayne Quist
An inspiring true story of the tribulations and triumphs of a talented Minnesota orphan. Joe Haan was born February 26, 1918, in St. Paul, but his story begins at the State School Orphanage where he started calling himself "God's Angry Man." He kept a journal most of his life where he wrote poems and essays that form the outlines of this exceptional story of a true survivor.
COST: $15.00

A Boy from C-11 Case #9164, A Memoir
by Harvey Ronglien
"The Minnesota State Public School for Dependent and Neglected Children housed more than ten thousand children during its sixty year history. Harvey Ronglien shows readers a panoramic view of this institution, first through the eyes of a child, then as an adult, and finally as it's most proactive and respected historian." ~ Joan Claire Graham
COST: $15.00

Iris Blossom and Boxing Gloves
by Iris Wright
Through a series of essays, this memoir about Iris, Bruce and Alfred Segelstrom tells what daily life was like living in separate cottages among 300 to 500 children at the State Public School Orphanage in Owatonna, Minnesota. Shared in the essays are the strict scheduled routines, joys of friendship and the infighting that occurred. The emotional upheaval of being uprooted from family, a home with parents and older brothers, going to the orphanage and then into foster homes and, finally, the five siblings reuniting to share a close relationship.
COST: $12.00

Crackers and Milk
by Arlene Nelson
Sarah Richards, the oldest of five children growing up in the early 20th Century rural Midwest. In "Crackers and Milk," Arlene Nelson retells her mother's amazing story of a tarnished childhood, as her mother told her years ago. Readers will not forget the strength, determination, loyalty, and resilience of this extraordinary girl.
COST: $16.00

No Tears Allowed
by Eva Carlson Jensen
No Tears Allowed is a heart-wrenching story of neglect and life with an alcoholic father. Eva (Carlson) Jensen tells of her meager beginnings in northern Minnesota, and of life at the Owatonna State School. The book contains many sad and funny stories of her survival.
COST: $15.00

While the Locust Slept
by Peter Razor
In stark, haunting prose, first-time author Peter Razor chronicles his survival of abuse and bigotry at a state orphanage in the 1930s and at the brutal farm that followed. Disclosing his story through flashbacks and relying on research from his own case files, Razor pieces together the shattered fragments of his boyhood into a memoir that reads as compellingly as a novel. (Minnesota Book Award Winner)
COST: $17.00

*My Light at the End of the Tunnel
by Helen Bowers
How does an abandoned child raised in the Minnesota State School for Dependent and Neglected Children survive an abusive marriage and overcome her own illness and depression to raise four children who have health problems of their own? Add in her determination to bring her relatives out of Romania by working with Hubert H. Humphrey and you are holding a book that cannot be put down. After years of struggles, when life seems hopeless, she meets her prince charming, Ed Bowers. Ed and her children then become Helen's light at the end of the tunnel and help make her dreams come true. An inspirational and entertaining read.
COST: $10.00

Patty's Journey: From Orphanage to Adoption and Reunion (not shown)
by Donna Scott Norling
From orphanage to adoption and reunion, this inspirational story of one girl's search for a home is an engaging first person narrative of life during the Great Depression and World War II. Readers and critics alike have offered lavish praise for Norling's graceful prose and the redemptive tale she shares. (Minnesota Book Award Winner)
COST: $17.00

Minnesota Man (not shown)
by Jemkay Smith
At the tender age of two, Randy Turner is placed in an orphanage after his father is sent to jail. This difficult beginning sets the stage for the inspiring true story of Randy's life as he grows from a young boy to a young man in rural Minnesota during the first half of the twentieth century. Along the way he encounters abuse and kindness among five different families, lives through two surgeries, manages to avoid jail, becomes a boxing champion, and joins the U.S. Navy. Based on information gleaned from personal accounts, state school documents and military records, history and geography are served up in this saga of a boy who must come to grips with the harsh realities of life. Minnesota Man is a moving tale of survival that takes the reader back in time yet carries the timeless message that adversity can be overcome.
COST: $15.00.