Events
When There's Good To Be Done Tour - May 4
Minneapolis folk singer-songwriter duo "Curtis & Loretta" will appear at the Owatonna Arts Center on Saturday, May 4, at 2:00 pm to present their program, "When There's Good to Be Done." Two of Loretta's original compositions are about former State Schoolers, Harvey Ronglien and Peter Razor.
Owatonna is one stop on a 22-city concert tour that Curtis & Loretta are presenting across the state. It is funded in part by an Arts Tour Minnesota Grant from the Minnesota State Arts Board. A donation of $5 per person is suggested.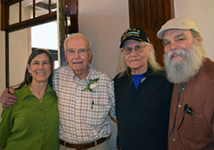 Art on the Hills - July 2019

Mark your calendar! The Orphanage Museum will join with the Owatonna Arts Center again for "Art on the Hills" Art Fair on Saturday, July 27 and Sunday, July 28. It's a great opportunity to share the State School's story right on the beautiful West Hills campus. Admission is free.