Orphanage Legacy Trust Fund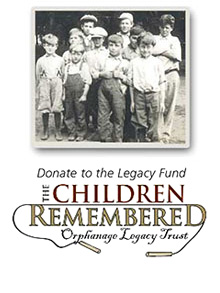 Help Keep the State School Museum Operating!
The mission and ongoing goal of the State School Orphanage Museum Board has been to honor the memory of the children and preserve the history of the Minnesota State Public School for Dependent and Neglected Children. With the help and generous donations of many individuals, businesses, organizations, and the City of Owatonna, we have been able to restore and preserve this State Orphanage, this national treasure, which may otherwise have been destroyed.
Due to necessity, we have taken the next steps to help ensure that the only known orphanage museum in the nation will not dissolve. The Children Remembered: Orphanage Legacy Trust was established to secure a future for the museum, staff, and this wonderful historic landmark.
For more than 20 years, museum founds Harvey and Maxine Ronglien volunteered countless hours to not only start the museum, but to manage it on a day-to-day basis. We are finding we do not have the budget to sustain a staff person to continue their work. We rely heavily on donations and cannot responsibly operate on "hopes" for donations throughout the year. Once funded, the Trust will provide the needed monies to draw from to make the Orphanage Museum "self-sustaining" once again. We need your dollars to help secure our Trust and keep the State School Museum operating.
Please reflect on how the State School has affected your life, and donate generously and with your heart. We are able to accept stocks, bonds, insurance proceeds, credit cards, checks, or cash. Please mail monetary donations to the State School museum address, attention Legacy Trust. If you wish to make a larger gift, estate planning options are available as well. Please contact your financial advisor or legal representative about giving opportunities.
We set a goal for The Children Remembered: Orphanage Legacy Trust of $300,000 in the first three years and a total of $500,000 by the fifth year. We are currently far below our goals.
Our grateful thanks for helping us remember all the State School children who lived this history and keeping the stories of these children alive!