State-run Orphanage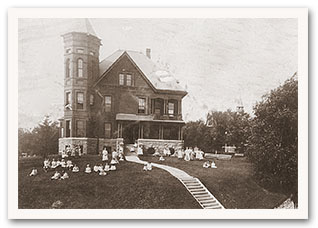 Minnesota State Public School for Dependent and Neglected Children was created by a law passed by the 1885 State Legislature, under the guidance of Governor Lucius Hubbard and Reverend Hastings Hart. Before this facility was built, orphaned, dependent, abused, and neglected children were placed in country poor farms with adult derelicts, petty criminals, alcoholics, and mentally ill. The State School was created to be a haven where these children could be "saved" and transformed into productive members of society.
The Cottage Plan was a new concept. It was designed to afford the children a family-like group atmosphere. There were 16 cottages on the grounds that housed up to 500 children at any time in the 1930s and early 40s. Children were constantly being placed out and new, unfamiliar children being placed in. These children had been made wards of the state by the probate courts. The State School was meant to be a temporary home, preparing the children for adoption or placement in new, "good homes." While the intent was to keep the children for only a few months, some stayed on for years and became institutionalized.

Galen Merrill, Superintendent from 1886 until his death in 1934, played a central role in the national discussion on child welfare. His pioneering efforts played a pivotal role in the development of Minnesota Child Welfare Laws enacted in the Progressive Era.
In 1945, the State legislature phased out the orphanage on the advice of childcare workers. The institution took on the new role of providing academic and vocational training for Minnesota's children with developmental disabilities. That era ended in 1970 and the Owatonna State School was permanently closed. In 1974, the City of Owatonna purchased the campus to house city administration offices.