Orphanage Museum
Take An Orphanage Tour Today!
We invite you to come to Owatonna and take a self-guided tour of the Orphanage Museum on the former grounds of Minnesota State Public School for Dependent and Neglected Children. The primary museum is located in the central hall of the City Administration Building. This u-shaped hall hosts display cabinets with materials both sorted chronologically and by subject. Visitors may also view a short historic video in the northwest corner. Visitors can watch videos and see photos and artifacts that tell the stories of the children who lived this history.

Museum Hours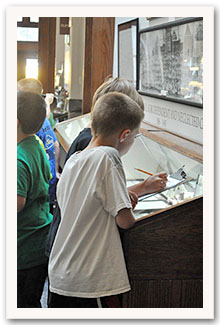 8am-4:30 pm, Monday - Friday
Access through the Main Building front doors
1 pm-5 pm, Saturday - Sunday
Access through the Owatonna Arts Center entrance,
located at the rear of the Main Building
The Museum is closed on major holidays.
Suggested Donation: $2.00 per person
Outdoor Audio Stations
Guests may also explore the campus by following the six-station Outdoor Audio Tour, which lead to historic sites, such as Boys' Cottage 11, the Children's Cemetery, Root Cellar, Flagpole Plaza, Rock Garden, and 1898 School Monument.
Minnesota's only state-run orphanage (1886-1945) is today listed on the National Register of Historic Places and averages around 7,000 visitors annually. Click here to learn more.
Boys' Cottage 11
Guests may also explore the campus by touring Boys' Cottage 11. Highlights include original terrazzo flooring, bathroom fixtures and woodwork; a Gift Shop; and, of course, the opportunity to walk through an original cottage from the orphanage era and learn the story of the boys who lived there. The restoration process included removing walls, sanding floors, scraping paint, adding new furnaces and air-conditioning units, construction projects, painting, finishing floors, finding artifacts, and installing audio systems. Click here to learn more.
Cottage 11 is closed in January and February; however, it may be opened by special request. Contact 507-774-7369.